"The Fight Against Fake News: An Insider View"
with Michele Matassa Flores
Seattle Times Executive Editor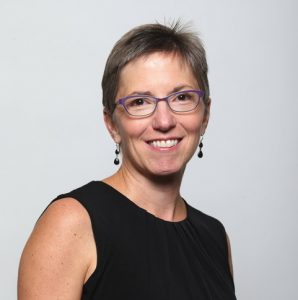 Saturday, March 21, 2020
Executive Inn by the Space Needle
200 Taylor Ave North
Seattle, WA
As we enter election year, Seattle Times Executive Editor Michele Matassa Flores will give us her take on fake news – what it's doing to the local news business, editors' roles in guarding against anything truly fake, and how individuals can distinguish between the fake and the real.
She will also talk about The Seattle Times' industry-leading experiment in keeping real news strong by finding underwriters for key topics like education and homelessness who pay for staff without influencing coverage.
As executive editor, Matassa Flores is responsible for the news content of both the printed newspaper and seattletimes.com. She has worked in or supervised nearly every news department, including the city desk, the investigations team, business, sports, and features. In addition to The Seattle Times, she has worked at Crosscut, the Puget Sound Business Journal and the Statesman Journal in Salem, Oregon. A graduate of The University of Oregon, she lives in West Seattle.
Come Join Us!
Cost: $15 inclusive. No charge for first-time visitor, full-time students, or matriculated  students with corresponding student ID. Reservations still required.
Menu: Greek vegetable scramble (onions, tomato, bell peppers, olives and Feta cheese topped with fresh basil), ham, roasted baby red
potatoes, breakfast breads, fresh fruit juice, and freshly brewed Cafe Vita coffee, decaffeinated coffee, and tea.
Parking: Free in hotel garage (sign the book at the front desk). Paid parking can usually be found on the street. Bus: #8 on Denny.
Reservations required by Sunday, March 15, 2020
To reserve your place, send an email to: RSVP@aauw-seattle.org.
---

Upcoming Programs – Save the Dates!
2019-2020 Seattle Branch AAUW Programs
Saturday, March 21, 2020  – Michele Matassa Flores, Executive Editor of the Seattle Times, TBD
Wednesday, April 15, 2020, 7:00 pm – Scholar Recognition Reception at Executive Inn by the Space Needle, Seattle, WA
Friday – Sunday, April 17-19, 2020 – AAUW Oregon-Washington Joint Convention, Heathman Lodge, Vancouver, WA
Saturday, May 16, 2020, 9:30 am – Annual Branch Meeting with author Elise Hooper and Scholarship Winners

at Executive Inn by the Space Needle, Seattle, WA
Monday, January 27, 2020 – AAUW State Lobby Day, Olympia, WA
Saturday, February 15, 2020, 9:30 am – Climate Solutions and the Power of Women with Gwen Hanson, MD at Executive Inn by the Space Needle, Seattle, WA
Saturday, January 18, 2020, 9:30 am – TBD at Executive Inn by the Space Needle, Seattle, WA
Saturday, December 21 2019, 9:30 am – Annual Holiday Program, at the Seattle Yacht Club, Seattle, WA
Saturday, November 2019 – 10:00 am – Five Women Warriors with Mayuri  Tsutakawa at Shoreline City Hall, Shoreline, WA
Saturday, October 19, 2019 -9:30am – Michelle Merriweather, at the Executive Inn by the Space Needle, Seattle, WA
Saturday, September 21, 2019 – 9:30 am –Evolution of Title IX" with Amy Klosterman, Attorney and Consultant, at the Executive Inn by the Space Needle, Seattle, WA