Join our Zoom meeting on
Monday, November 16th at 7:00PM
The Country that Fiction Built
with Humanities Washington Speaker, Dr. Michelle Liu

How can fiction help us imagine building more empathy and openness to those with experiences different from our own? 
Dr. Michelle Liu, a Humanities Washington speaker, will discuss this question with us.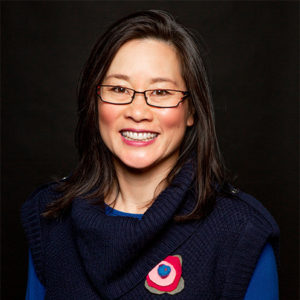 Dr. Liu, a professor of English at the University of Washington, will delve into the many ways our country is deeply shaped by Harper Lee and Harriet Beecher Stowe. Using To Kill a Mockingbird and Uncle Tom's Cabin, Michelle Liu invites participants to think about how these two works of fiction still fundamentally shape as well as limit how we think about skin color, morality, and who counts as human.
Dr. Michelle Liu earned her PhD in American Studies from Yale University and specializes in teaching writing and exploring ideas about identity, history, emotion, and storytelling.
AAUW Seattle is grateful to Humanities Washington for funding this public presentation. AAUW members and the general public can register for this free presentation here.
Please note that this link will take you to a Zoom registration page where you will receive a unique link to the program.  As this link is unique and available only to you, we recommend you copy this link into your calendar or save it to an easily accessible place for you.
---
 Stay home and stay healthy.
We will be meeting via Zoom for meetings in the near future.
---
Come Join Us for AAUW Seattle Branch Meetings!
Location: Executive Inn by the Space Needle (200 Taylor Ave N, Seattle, WA 98109
Cost: $15 inclusive. No charge for first-time visitor, full-time students, or matriculated students with corresponding student ID. Reservations required.
Menu: TBD
Parking: Free hotel garage parking (just sign the book at the front desk). Paid parking can usually be found on the street. Bus: #8 on Denny.
Reservations required.
To reserve your place, please send an email to: RSVP@aauw-seattle.org.
For all other event locations, click here for directions and parking.

Upcoming Programs – Save the Dates!
2020-2021 Seattle Branch AAUW Programs
Saturday, May 16, 2020, 9:30 am – Annual Branch Meeting with author Elise Hooper and Scholarship Winners at Executive Inn by the Space Needle, Seattle, WA Cancelled
Friday – Sunday, April 17-19, 2020 – AAUW Oregon-Washington Joint Convention, Heathman Lodge, Vancouver, WA, Cancelled
Saturday, March 21, 2020  – Michele Matassa Flores, Executive Editor of the Seattle Times, Cancelled
Wednesday, April 15, 2020, 7:00 pm – Scholar Recognition Reception at Executive Inn by the Space Needle, Seattle, WA, Cancelled
Monday, January 27, 2020 – AAUW State Lobby Day, Olympia, WA
Saturday, February 15, 2020, 9:30 am – Climate Solutions and the Power of Women with Gwen Hanson, MD at Executive Inn by the Space Needle, Seattle, WA
Saturday, January 18, 2020, 9:30 am – TBD at Executive Inn by the Space Needle, Seattle, WA
Saturday, December 21 2019, 9:30 am – Annual Holiday Program, at the Seattle Yacht Club, Seattle, WA
Saturday, November 2019 – 10:00 am – Five Women Warriors with Mayuri  Tsutakawa at Shoreline City Hall, Shoreline, WA
Saturday, October 19, 2019 -9:30am – Michelle Merriweather, at the Executive Inn by the Space Needle, Seattle, WA
Saturday, September 21, 2019 – 9:30 am – Evolution of Title IX with Amy Klosterman, Attorney and Consultant, at the Executive Inn by the Space Needle, Seattle, WA