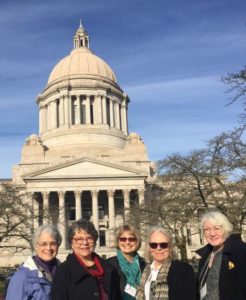 In this historic, entirely remote session, the people of Washington will have more access to their Legislature than ever before. Any meetings that were public during in-person session will now be accessible remotely. No one will have to travel to Olympia to participate in the lawmaking process.
All floor sessions and committee meetings will be live-streamed at https://www.tvw.org/.
To find committee info, including agendas and documents, click here.
For a guide to navigating virtual sessions, click here.
Other important updates:
AAUW's Washington State lobbyist/consultant is Nancy Sapiro. She puts out a weekly report on what's going on in our state legislature, especially as it relates to AAUW issues including equity and women's rights. Sign up to get a weekly email on Olympia Legislation by emailing legupdate@aauw-wa.org and provide your name.
Please sign up to become an AAUW Two-Minute Activist. It can be used for state actions as well as national ones. You do not need to be a member of AAUW to sign up so we urge you to use social media to get your friends and other branch members to be a part of our quick response team. We may need to use this platform this year and getting many responses will be critical to our success. You can find it more details here. We need you!