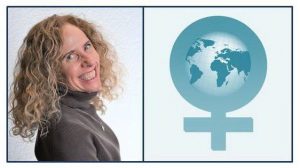 We had a great turn-out at the Executive Inn and enjoyed a lovely light buffet breakfast with AAUW members and several guests.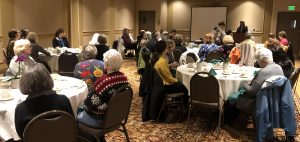 Rachel Foe introduced our speaker, Dr. Gwen Hanson, who spoke about "Climate Solutions and The Power of Women".  As a member of the Citizens Climate Lobby, Dr. Hanson is well-informed on the issues and solutions for the global warming crisis. She suggested carbon can be reduced thru carbon tax, carbon regulation and carbon subsidies.
The Citizens Climate Lobby is currently pursuing the Carbon Dividend Act HB 763:  a carbon tax and dividend bill.  Dr. Carson added that a bipartisan approach to climate change is most important so that new practices will be durable and sustainable, regardless of changes in political administrations.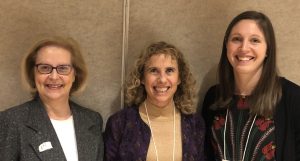 She also talked about the powerful role of women, who have the ability to develop relationships that are meaningful rather than arguments that are resisted and are critically important in solving this problem.  AAUW's mission of education and equity for women and girls ties right into this and is also one of the top ten ways of reducing carbon according to Gwen and the book Drawdown.
Dr. Hanson closed her presentation with a lovely reading by Rachel Carson, celebrating the beauty of the earth. The meeting ended with a lively discussion between the audience and the speaker.
For more information about climate solutions: citizensclimatelobby.org,  energyinnovationact.org   Recommended reading from our speaker: Drawdown edited by Paul Hawken