Our annual Holiday Party at the Seattle Yacht Club went off without a hitch this year.  Electricity and everything!  All the lights were glowing and the hot breakfast was delicious.  We had a big crowd of over 60 members and guests.  It is always enjoyable visiting with friends you haven't seen in a while and it was a very festive crowd.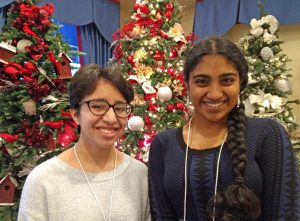 We had two girls from Tech Trek who were very articulate and moving in sharing their Tech Trek experiences from last year.  They both seemed to have gained a lot of confidence and become clearer and more active in pursuit of their goals.  Even their parents spoke which gave some insight on how this incredible program encourages positive changes not only in the girls but in their families too.  It seemed to make everyone feel even stronger about supporting more Tech Trek girls next summer.
Kelvie Comer talked about different ways to fund raise for Tech Trek.  June Arnold told about her incredible intense and marvelous experience as a Dorm Monitor for Tech Trek last summer.  Tonna Kutner totally agreed as she also spent a week as a Dorm Monitor last summer.  We are looking for more volunteers to help with Tech Trek to contact schools, interview girls and other tasks in and around Seattle.  We are always looking for more women who are willing to go to camp and help out as Dorm Monitors in July of 2020.  If any of this important work interests you, or you have questions, please let Tonna know – techtrek@aauw-seattle.org.
We had a record number of baskets to raffle – thanks to all who made basket donations. Robin Hendricks did a great job of selling tickets.  I'm not sure of the exact number, but we made well over $1,000, or more than enough to sponsor a girl at Tech Trek next summer.  If you couldn't make the meeting, here are some ways to make a tax-deductible donation to Tech Trek:
Online, via credit or debit card, https://techtrek-wa.aauw.net/
Via check made out to "AAUW-WA SPF" with "Tech Trek Seattle" on the message line sent to: AAUW-WA SPF, PO Box 1665, Bellevue, WA 98009-1665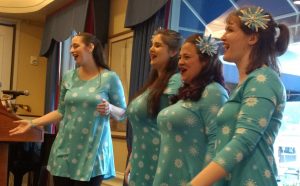 The Raintones, a women's quartet singing in the barbershop style, really sang their way into our hearts offering both holiday songs and a nice range of non-holiday numbers.  All together a very warm and festive meeting.  Thanks to all who worked to make it happen.