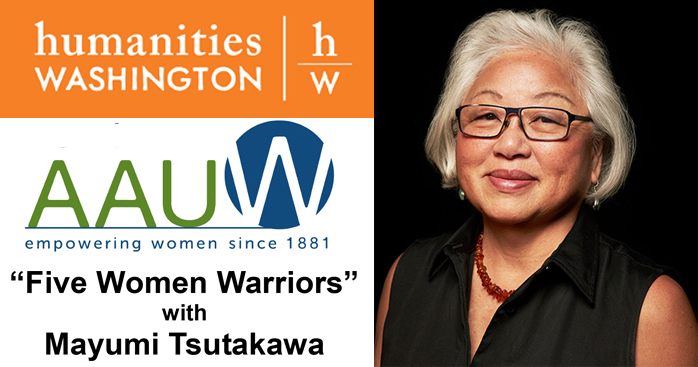 November Branch Meeting from Judy Waring
This was our second year of having a joint November meeting with Edmonds/Sno-King Branch with a Humanities Washington speaker. This time we met at a new location, the Shoreline City Hall, where we had nice facilities and plentiful parking. Mayumi Tsutakawa of Humanities Washington spoke on "Five Women Warriors," Washington's undiscovered feminists from the past century.
First, we heard a bit about our speaker's early activist background, focused on housing. We learned the significant dates in Women's Suffrage and how our Washington was the fifth state to gain voting rights, ahead of the national 1920 date we'll be celebrating next year. She asked us why WA and the other states granting women the right to vote were all out West. The other question she asked, was "What is feminism?"
Then, Mayumi Tsutakawa proceeded to tell us about the five warriors:
Pioneering photographer Imogen Cunningham

Black American jazz musician Ruby Bishop

Chinese American artist Priscilla Chong Jue

Leftist journalist Anna Louise Strong

Native American linguist Vi Hilbert
Questions and comments afterwards featured the Equal Rights Amendment (ERA) and the Washington State Conference for Women that was held in Ellensburg in July 1977, attended by our speaker and a couple of others in the room. Some 4,000 women from around our state met on the campus of what is now Central Washington State University. Conservative and liberal feminists strongly disagreed about the ERA but pro-ERA delegates were elected to the national women's meeting held in Houston later that year.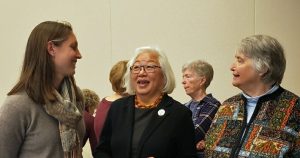 Edmonds/Sno-King provided the coffee and snacks. Our member Marianne North, who is a dual member with Edmonds Branch, coordinated the arrangements for our joint meeting. A couple of guests at the meeting requested AAUW membership information and one joined our branch. Many comments were heard of "Let's do this again next year." 
Humanities Washington sparks conversation and critical thinking using story as a catalyst, nurturing thoughtful and engaged communities across our state. For more about Humanities Washington, visit www.humanities.org.