Our Annual Branch Meeting was on May 18, 2019.  We really enjoyed having Pamela Beer as our speaker.  She is an artist and also the Program Director of Women Painters of Washington.  She told us about the organization which started in 1930 with six women and now has over 200 members.  Women Painters promotes fellowship and goodwill among its members and encourages each member to an every-advancing standard of achievement.
Pamela showed us a number of incredible paintings that the current members have painted.  She told us about her journey as an artist and says of her own work: "I'm a colorist and love how the tactile act of painting feels lyrical and induces a sense of calm as I bring each piece to conclusion."
The Women Painters of Washington Gallery is in the Columbia Center Building in downtown Seattle:
701 5th Avenue, Suite 310
Seattle, WA     206 624 0543
Gallery hours are Monday-Friday 11am-4pm
This is an amazing gallery space in such an unexpected location featuring a wide variety of talented artists.  It is free and open to the public.
Women Painters of Washington   https://womenpainters.com/wp/
Pamela Beer, Artist    https://pamelakbeer.com/about
---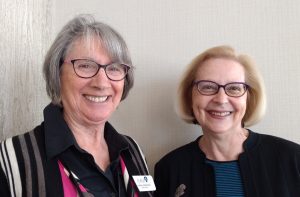 Our annual meeting was a great success.  We elected our new branch co-presidents – Lynn Dissinger and  Fiona Goodchild. Cynthia Sheridan is our new Programs Chair and Rachael Foe as our new Secretary.