Our 19th annual Scholar Recognition event was, as usual, inspiring, fun and very well attended.  Thirty scholars from 11 schools were honored this year for their achievements in math, science and technology – all but five of them present at the event with parents, grandparents, siblings, and others who have supported their academic and personal journeys thus far. Just over 120
scholars, guests and members were there to celebrate the students' achievements and be
part of our program – our biggest event yet.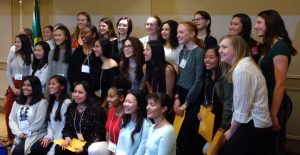 This year's reception began with Tonna Kutner sharing information about AAUW as an organization, with a focus on our efforts to eliminate the gender pay gap.  Scholar Recognition chair June Arnold introduced and thanked this year's committee.  Renée Agatsuma introduced our keynote speaker and emceed the awards ceremony.  Many others worked behind the scenes to make this year's event a success. Thank you to all!
Keynote speaker, Marina Gillett, an avionics integration engineer at Blue Origin, shared the story of her own path to enjoying a fulfilling career, emphasizing to the students that discovery and learning from failure were healthy parts of the process, along with continuing their education. The presentation was inspiring and well received, and it sure looked like everyone had a great time.